Enertronics Laboratory
The Enertronics Laboratory is located in the Energy Department (DENERG) and covers an area of about 600 square meters dedicated to the development and testing of power electronics and electrical drives.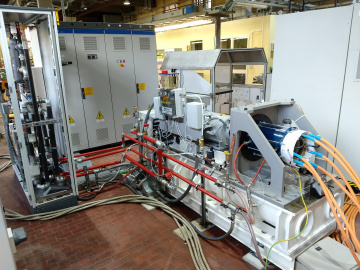 E-Drive Testbench for Automotive and Aerospace Applications
At the Enertronics Lab we can perform the following activities:
Testing of high voltage (400Vac input, 600Vdc output) power electronics using power hardware-in-the-loop concept and dedicated hardware (battery emulator – 270 kW 1500 V, grid simulator – 50 kVA). The power electronics designed in the lab include: inverters, battery chargers (conductive and wireless), DC/DC converters for Diesel injection valves, single-phase and three-phase PFCs (power factor correctors).
Validation of powertrains (power electronic converter and eMotor) with defined loading cycles, at controlled temperatures.
Testing of electrical machines for loss and efficiency computation according to the national and international standards.
Testing and characterization of eMotors prototypes for torque and efficiency mapping using advanced data recorder systems.
Testing of eDrives for the optimization of control strategies using fast prototyping systems based on dSpace control boards.
Testing of multiphase electrical motors (number of phases up to 18) up 100 kVA total power.
TEST-eDRIVE: 150 kW pk, 200 Nm nom, 20.000 rpm max. Both converter and machine are liquid cooled and able to operate from 0°C to 90°C.
Real-time hardware in the loop testing of ECUs (Electronic Control Units) using virtual hardware implemented on PLEXIM RT box.
The laboratory relies on several test rigs for eMotors testing using back-to-back configuration or dedicated driving machines.
The laboratory is located in the Politecnico di Torino, Energy Department (North area, access from Corso Castelfidardo 29).